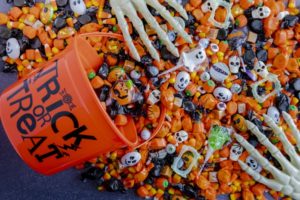 Halloween is just about here! As much as you're looking forward to spending time watching spooky movies and dressing up, there is one things you definitely don't want to be scary – your smile. With so much candy and delicious treats around, it's easy to cave in. However, this can cause you to experience dental issues in the near future. Even though a couple treats probably won't hurt too much, it's important that you take steps to limit damage to your smile. Your dentist in Naples shares some tips to help you do that.
Avoid Some Treats
Even though no sweet, sugary treats are good for your smile, some a particularly harmful. This includes toffee apples, chewy toffy, and other sticky candies that adhere to your teeth. Remember that these sweets can get stuck between the teeth, damage fillings, and even damage braces. If you want to have something sweet, choosing something like chocolate would be a much better option.
Choose Beverages Wisely
Over the Halloween weekend, many like to turn to apple cider, Halloween themes cocktails, and other mixed drinks that are very acidic and contain lots of sugar. Even though they are delicious and fun to drink, they can be harmful for your smile. If you want to wind down with an adult beverage, choose one that isn't as damaging, like a gin and tonic or light beer.
Maintain Good Oral Hygiene
No matter what you're doing this Halloween, don't forget to put aside some time for your oral hygiene routine. Even though the spooky season is a fun and busy time of year, your smile shouldn't become a last priority. If you aren't cleaning your smile properly, food debris will build up and cause both tooth decay and periodontal disease. Take some time to brush and floss every single day to prevent this from occurring.
Limit Your Time Eating Candy
You probably already knew that sugary treats damaged your teeth, but did you know that they make your enamel more vulnerable to damage for a period of time after you eat them? This is because sugar turns to acid in the mouth and softens the protective outer layer of your teeth. Instead of snacking on your Halloween candy all day, have the ones you want during a shorter period of time, so your teeth aren't susceptible to damage for as long.
This Halloween, don't forget to save some time for your smile. By using the tips above, you can avoid dental issues and keep your teeth healthy.
About the Author
Dr. Gery P. Benza is a well experienced dentist who has been serving patients in Naples, FL since 1982. He earned his Doctor of Dental Surgery from the prestigious Case Western Reserve University School of Dentistry and has receive numerous honors from both his patients and dental peers. This includes being voted as a Top Dentist in the Gulfshore Magazine every year since 2011. For more tips on maintaining good oral health or to schedule an appointment, visit his website or call (239) 249-8582.
The post How to Keep Your Teeth from Becoming Scary This Halloween appeared first on Galleria Dentistry Blog.