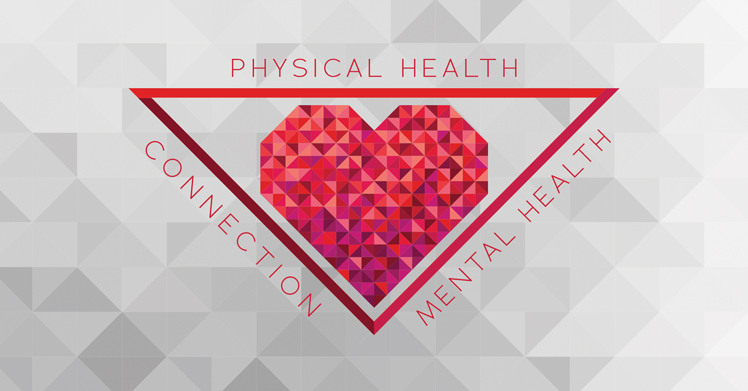 Our mental health is not the product of just one single thing, it can be affected by multiple factors. One way to think about it, is like a triangle, with three sides that all need to join up. Those three sides are made up of physical health, mental health and connection, and each one is needed to help us stay well.
The connection side
The connection side of that triangle is hugely important and is the thing that has probably been most impacted by the lockdown and social distancing rules imposed following the outbreak of COVID-19.
As human beings, we are social creatures, we interact with each other a lot. Talking to others and telling them how we're feeling and finding out how they're doing, helps us to not feel so alone. Feeling heard and understood is really key to getting rid of some of the negative emotions that we might have during this very stressful, worrying time.
This is why, even though we may not be able to meet and interact in person it is a good idea to connect with others in other ways, through phone or video calls, for example.
Having connection with people on some sort of level, is essential and a core part of staying healthy for many of us. It is positive for our mental health, and we know that how we are feeling mentally also affects our physical health.
The physical health side
I was really pleased that the Government has recognised the importance of exercise and staying physically fit during this time and is still allowing people out for a daily run, walk or bike ride.
This is crucial to get some blood flow around our body and get some endorphins flowing, on the physical side. And allowing us outside to do this means we can have some fresh air and break out of the cabin fever that a lot of people are experiencing from being at home all day.
Doing something at your own level, whatever's comfortable for you, will be really good for both your physical and mental wellbeing. Regardless of the activity, whether it's walking, running, cycling, or something else – research has shown that moderate physical exercise, three times a week, is a really effective antidepressant. So, trying to get out and being active is key.
The mental health side
While COVID-19 is a clear threat to our physical health, it is also a threat to our mental health with the loss of physical interaction with our friends and loved ones, worrying about the future, feelings of a lack of control over the situation, etc.
There is a real significant increase in levels of anxiety. In my role I am supporting quite a few people – more than usual – who are feeling quite anxious because of what's happening.
A lot of the advice from mental health charities and agencies is to limit the amount of news you're getting every day. It's fine to stay abreast of the situation but to maintain a manageable level of anxiety, make sure you don't over-do your news intake.
People are anxious about themselves, their loved ones, vulnerable people in the community – and that is why finding a way to connect, while obeying Government guidelines on social distancing, is so important. Communicating and talking to each other, via phone or video calls, and sharing your feelings and emotions will be good for your mental health.
This is a relatively simple model for understanding physical and mental wellbeing, but finding a way to incorporate something that helps each of these sides will be beneficial for your health.
For me, connection is the key. Our usual methods of connecting with our fellow human beings is not possible right now, and this may well have made us realise just how important it really is to us, so it is vital that we find new ways to connect and interact.
To hear more from Andy you can visit our COVID-19 Resource Hub and watch a webinar with him, or visit his website: https://www.andyelwood.com/
About Andy:
Andy saves lives. His approach is different, refreshing and unique. He campaigns, speaks and is a Mental Health First Aid instructor.
Andy sparks conversations which enables culture change regarding Mental Health and Wellbeing for individuals and organisations. He creates safety and trust by sharing his own vulnerability and gives a unique 'behind the scenes' insight into life and death situations on Search and Rescue helicopters, on the Afghanistan battlefields during military service and to the potential downward spirals due to 21st Century pressures.
After 18 years working on rescue helicopters around the world, he believes that focusing on mental health will save more lives than continuing to dangle under helicopters, as a paramedic. Andy's Search and Rescue career began with the Royal Air Force and was completed in the Coastguard, where he led Clinical Governance for half of the UK. Despite Andy's various awards for physical courage, he believes his bravest action has been to talk openly about his own struggles and vulnerability, in order to find a way through three very different challenges during his lifetime.
Since HRH Duke of Cambridge attended Andy's Mental Health workshop, at the UK Search and Rescue National Conference in 2018, he has been engaged as a speaker by organisations such as University of Cambridge Medical School; Jacobs (construction industry); Scottish Mountain Rescue; Emergency Services Show (NEC) and Mind Blue Light Programme.
The post The health triangle – the three sides to staying well appeared first on Practice Plan.