Welcome to our monthly trawl for developmental biology (and related) preprints. The preprints were hosted on bioRxiv, PeerJ, and arXiv. Let us know if we missed anything, and use these links to get to the section you want:
| Stem cells, regeneration & disease modelling
Developmental biology
| Patterning & signalling

A copy number variant is associated with a spectrum of pigmentation patterns in the rock pigeon (Columba livia)
Rebecca Bruders, Hannah Van Hollebeke, E.J. Osborne, Zev Kronenberg, Mark Yandell, Michael D. Shapiro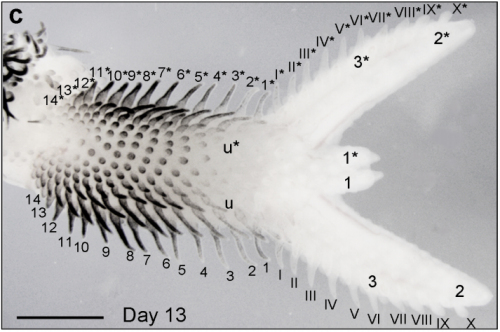 A positional information gradient of sonic hedgehog is required for flight feather formation in avian wings
Lara Busby, Cristina Aceituno, Caitlin McQueen, Constance A. Rich, Maria A. Ros, Matthew Towers
Proliferation in the epiblast-hypoblast layers of the primitive-streak chick embryoblast in response to epidermal growth factor
Francis O. Cunningham
A mesoderm-independent role for Nodal signaling in convergence & extension gastrulation movements
Margot L.K. Williams, Lilianna Solnica-Krezel
Intracellular enhancement of BMP signaling by LIM-domain protein FHL3 controls spatiotemporal emergence of the neural crest driven by WNT signaling.
Mansour Alkobtawi, Patrick Pla, Anne Helene Monsoro-Burq
Blastula stage specification of avian neural crest
Maneeshi S. Prasad, Eileen Uribe-Querol, Jonathan Marquez, Stephanie Vadasz, Nathan Yardley, Patrick B. Shelar, Rebekah M. Charney, Martin I. Garcia-Castro
Histone code dictates fate biasing of neural crest cells to melanocyte lineage
Desingu Ayyappa Raja, Yogaspoorthi Subramaniam, Vishvabandhu Gotherwal, Jyoti Tanwar, Rajender Motiani, Sridhar Sivasubbu, Rajesh S Gokhale, Vivek T Natarajan
Precision of Tissue Patterning is Controlled by Dynamical Properties of Gene Regulatory Networks
Katherine Exelby, Edgar Herrera-Delgado, Lorena Garcia Perez, Ruben Perez-Carrasco, Andreas Sagner, Vicki Metzis, Peter Sollich, James Briscoe
N-cadherin stabilises neural identity by dampening anti-neural signals
K Punovuori, RP Migueles, M Malaguti, G Blin, KG Macleod, NO Carragher, T Pieters, F van Roy, MP Stemmler, S Lowell
Ciliary phosphatidylinositol phosphatase Inpp5e plays positive and negative regulatory roles in Shh signaling
Sandii Constable, Alyssa B. Long, Katharine A. Floyd, Stéphane Schurmans, Tamara Caspary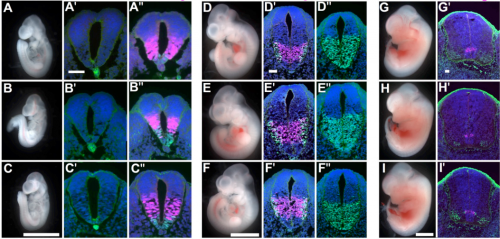 Arl13b regulates Sonic Hedgehog signaling from outside primary cilia
Eduardo D Gigante, Megan R Taylor, Anna A Ivanova, Richard A Kahn, Tamara Caspary
Maternal inflammation has a profound effect on cortical interneuron development in a stage and subtype-specific manner
Navneet A. Vasistha, Maria Pardo-Navarro, Janina Gasthaus, Dilys Weijers, Michaela K. Müller, Diego García-González, Susmita Malwade, Irina Korshunova, Ulrich Pfisterer, Jakob von Engelhardt, Karin S. Hougaard, Konstantin Khodosevich
Adult-born hippocampal neurons undergo extended development and are morphologically distinct from neonatally-born neurons
John Darby Cole, Delane Espinueva, Désirée R. Seib, Matthew B. Cooke, Shaina P. Cahill, Timothy O'Leary, Sharon S. Kwan, Jason S. Snyder
Radial Glial from mammalian developing neocortex can divide symmetrically in vitro
Mario Ledesma-Terrón, Nuria Peralta-Cañadas, David G. Míguez
TCF7L2 is a terminal selector that regulates postmitotic differentiation programs and excitability patterns in the thalamus
Marcin Andrzej Lipiec, Kamil Koziński, Tomasz Zajkowski, Michał Dąbrowski, Chaitali Chakraborty, Joanna Urban-Ciećko, Angel Toval, José Luis Ferran, Andrzej Nagalski, Marta Barbara Wiśniewska
Sensory neurogenesis depends on vascular-neuronal cytoneme contacts and blood flow
Laura Taberner, Aitor Bañón, Berta Alsina
Microglia are necessary for normal functional development of adult-born neurons in the olfactory bulb
Jenelle Wallace, Julia Lord, Lasse Dissing-Olesen, Beth Stevens, Venkatesh Murthy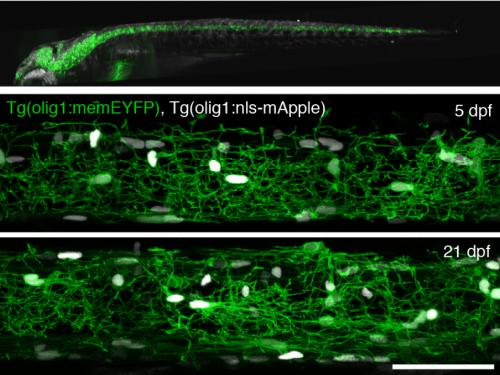 Functionally Distinct Subgroups of Oligodendrocyte Precursor Cells Integrate Neural Activity and Execute Myelin Formation
Tobias Hoche, Roberta Marisca, Eneritz Agirre, Laura Jane Hoodless, Wenke Barkey, Franziska Auer, Gonçalo Castelo-Branco, Tim Czopka
A novel subtype of pineal projection neurons expressing melanopsin share a common developmental program with classical projection neurons
Dora Sapede, Clair Chaigne, Patrick Blader, Elise Cau
FZD10 regulates cell proliferation and mediates Wnt1 induced neurogenesis in the developing spinal cord
Abdulmajeed Fahad Alrefaei, Andrea E. Münsterberg, Grant N. Wheeler
Folic acid, but not folate, regulates different stages of neurogenesis in the ventral hippocampus of adult female rats
Wansu Qiu, Aarthi R. Gobinath, Yanhua Wen, Jehannine Austin, Liisa A.M. Galea
Meiosis Initiates In The Fetal Ovary Of Mice Lacking All Retinoic Acid Receptor Isotypes
Nadège Vernet, Manuel Mark, Diana Condrea, Betty Féret, Muriel Klopfenstein, Violaine Alunni, Marius Teletin, Norbert B. Ghyselinck
Mesenchymal Igf2 is a major paracrine regulator of pancreatic growth and function
Constanze M. Hammerle, Ionel Sandovici, Gemma V. Brierley, Nicola M. Smith, Warren E. Zimmer, Ilona Zvetkova, Haydn M. Prosser, Yoichi Sekita, Brian Y.H. Lam, Marcella Ma, Wendy N. Cooper, Antonio Vidal-Puig, Susan E. Ozanne, Gema Medina-Gómez, Miguel Constância
Molecular and genetic regulation of pig pancreatic islet cell development
Seokho Kim, Robert L. Whitener, Heshan Peiris, Xueying Gu, Charles A. Chang, Jonathan Y. Lam, Joan Camunas-Soler, Insung Park, Romina J. Bevacqua, Krissie Tellez, Stephen R. Quake, Jonathan R. T. Lakey, Rita Bottino, Pablo J. Ross, Seung K. Kim
ROCK Inhibitor Increases Proacinar Cells in Adult Salivary Gland Organoids
Melinda Albany Larsen, Matthew H. Koslow, Kevin J. O'Keefe, Deirdre A. Nelson
Cortical Foxp2 supports behavioral flexibility and developmental dopamine D1 receptor expression
Marissa Co, Stephanie L. Hickey, Ashwinikumar Kulkarni, Matthew Harper, Genevieve Konopka
notum1, acting downstream of pitx2, is essential for proper eye and craniofacial development
Kathryn E. Hendee, Elena A. Sorokina, Sanaa S. Muheisen, Ross F. Collery, Elena V. Semina
Capillary morphogenesis gene 2 mediates multiple pathways of growth factor-induced angiogenesis by regulating endothelial cell chemotaxis
Lorna Cryan, Tsz-Ming Tsang, Jessica Stiles, Lauren Bazinet, Sai-Lun Lee, Samuel Garrard, Cody Roberts, Jessie Payne, P Christine Ackroyd, Kenneth A Christensen, Michael Rogers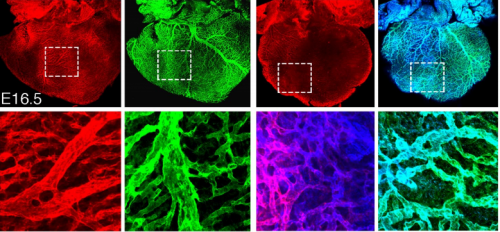 Coronary arterial development is regulated by a Dll4-Jag1-EphrinB2 signaling cascade
José Luis de la Pompa Mínguez, Stanislao Igor Travisano, Vera Lucia Oliveira, Belén Prados, Joquim Grego-Bessa, Vanesa Bou, Manuel J Gómez, Fátima Sánchez-Cabo, Donal MacGrogan
HIPK4 is essential for murine spermiogenesis
J. Aaron Crapster, Paul G. Rack, Zane J. Hellmann, Joshua E. Elias, John J. Perrino, Barry Behr, Yanfeng Li, Jennifer Lin, Hong Zeng, James K. Chen
Dynamics of Meiotic Sex Chromosome Inactivation and Pachytene Activation in Mice Spermatogenesis
Ábel Vértesy, Javier Frias-Aldeguer, Zeliha Sahin, Nicolas Rivron, Alexander van Oudenaarden, Niels Geijsen
Bioelectrical signaling via domain wall migration
Harold M. McNamara, Rajath Salegame, Ziad Al Tanoury, Haitan Xu, Shahinoor Begum, Gloria Ortiz, Olivier Pourquie, Adam E. Cohen
Loss of cell cycle control renders cells nonresponsive to local extrinsic differentiation cues
Kara L. Cerveny, Ingrid Tower, Dayna B. Lamb, Avery Van Duzer, Hannah Bronstein, Olivia Hagen, Máté Varga
Regulation of neuron-specific gene transcription by stress hormone signalling requires synaptic activity in zebrafish
Helen Eachus, Dheemanth Subramanya, Harriet E. Jackson, Guannyu Wang, Kieran Berntsen, John-Paul Ashton, Umberto Esposito, Fayaz Seifuddin, Mehdi Pirooznia, Eran Elhaik, Nils Krone, Richard A. Baines, Marysia Placzek, Vincent T. Cunliffe
Identification of kit-ligand a as the Gene Responsible for the Medaka Pigment Cell Mutant few melanophore
Yuji Otsuki, Yuki Okuda, Kiyoshi Naruse, Hideyuki Saya
FGF signals direct myotube guidance by regulating Rho/Rac activity
Shuo Yang, Allison Weske, Yingqiu Du, Juliana Valera, Aaron N. Johnson
The role of lineage, hemilineage and temporal identity in establishing neuronal connectivity in the Drosophila larval CNS
Brandon Mark, Sen-Lin Lai, Aref Arzan Zarin, Laurina Manning, Albert Cardona, James W. Truman, Chris Q. Doe
SILAC-based quantitative proteomic analysis of Drosophila gastrula stage embryos mutant for fibroblast growth factor signaling
Hamze Beati, Alistair Langlands, Sara 'ten Have, H.-Arno J. Müller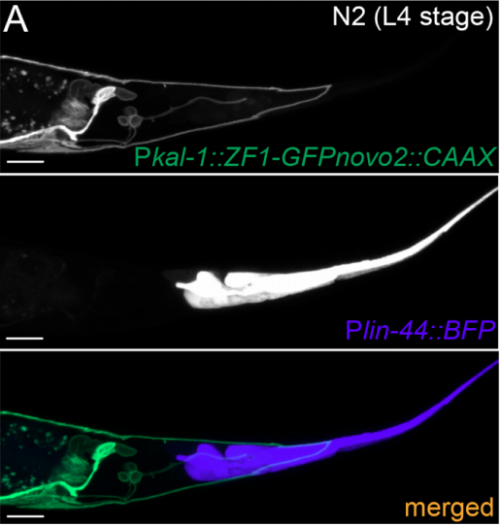 Gradient-independent Wnt signaling instructs asymmetric neurite pruning in C. elegans
Menghao Lu, Kota Mizumoto
| Morphogenesis & mechanics
Neural crest cells bulldoze through the microenvironment using Aquaporin-1 to stabilize filopodia
Rebecca McLennan, Mary C. McKinney, Jessica M. Teddy, Jason A. Morrison, Jennifer C. Kasemeier-Kulesa, Dennis A. Ridenour, Craig A. Manthe, Rasa Giniunaite, Martin Robinson, Ruth E. Baker, Philip K. Maini, Paul M. Kulesa
Symmetry breaking during morphogenesis of a mechanosensory organ
A. Erzberger, A. Jacobo, A. Dasgupta, A. J. Hudspeth
Tissue mechanics drives epithelialization, goblet cell regeneration, and restoration of a mucociliated epidermis on the surface of embryonic aggregates
Hye Young Kim, Timothy R. Jackson, Carsten Stuckenholz, Lance A. Davidson
From heterogenous morphogenetic fields to homogeneous regions as a step towards understanding complex tissue dynamics
Satoshi Yamashita, Boris Guirao, François Graner
Tissue mechanics regulate mitotic nuclear dynamics during epithelial development
Natalie J. Kirkland, Alice C. Yuen, Melda Tozluoglu, Nancy Hui, Ewa K. Paluch, Yanlan Mao
TDP-43 regulates the expression levels of Disc-large in skeletal muscles to promote the assemble of the neuromuscular synapses in Drosophila
Nina Strah, Giulia Romano, Clelia Introna, Raffaella Klima, Aram Megighian, Monica Nizzardo, Fabian Feiguin
The emergent Yo-yo movement of nuclei driven by collective cytoskeletal remodeling in pseudo-synchronous mitotic cycles
Zhiyi Lv, Jan Rosenbaum, Xiaozhu Zhang, Stephan Mohr, Helen Preiß, Sebastian Kruss, Karen Alim, Timo Aspelmeier, Jörg Großhans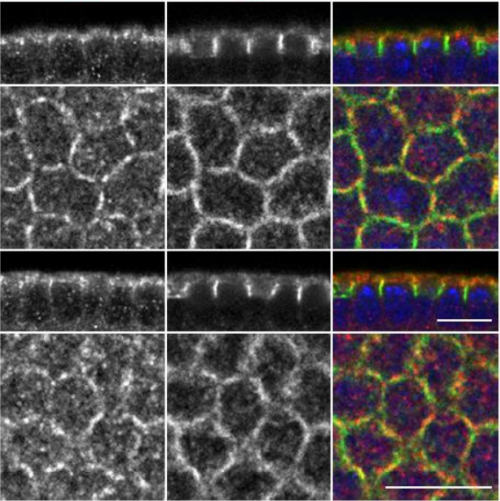 Emergence of the subapical domain is associated with the midblastula transition
Anja Schmidt, Jörg Großhans
A dynamic cell recruitment process drives growth of the Drosophila wing by overscaling the Vestigial expression pattern
Luis Manuel Muñoz-Nava, Hugo Ariel Alvarez, Marycruz Flores-Flores, Osvaldo Chara, Marcos Nahmad

The role of integrins in Drosophila egg chamber morphogenesis
Holly E. Lovegrove, Dan T. Bergstralh, Daniel St Johnston
Collagen-binding by Drosophila SPARC is essential for survival and for collagen IV distribution and assembly into basement membranes
Sebastian Duncan, Samuel Delage, Alexa Chioran, Olga Sirbu, Theodore J. Brown, Maurice J. Ringuette
The tricellular vertex-specific adhesion molecule Sidekick facilitates polarised cell intercalation during Drosophila axis extension
Tara M. Finegan, Nathan Hervieux, Alexander Nestor-Bergmann, Alexander G. Fletcher, Guy B. Blanchard, Bénédicte Sanson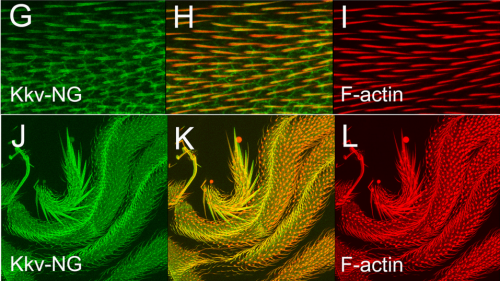 The localization of chitin synthase mediates the patterned deposition of chitin in developing Drosophila bristles
Paul N. Adler
Rab11 is essential for lgl mediated JNK–Dpp signaling in dorsal closure and epithelial morphogenesis in Drosophila
Nabarun Nandy, Jagat Kumar Roy
Expansion of apical extracellular matrix underlies the morphogenesis of a recently evolved structure
Sarah Jacquelyn Smith, Lance A. Davidson, Mark Rebeiz
Shear forces drive precise patterning of hair cells in the mammalian inner ear
Roie Cohen, Liat Amir-Zilberstein, Micha Hersch, Shiran Woland, Shahar Taiber, Fumio Matsuzaki, Sven Bergmann, Karen B. Avraham, David Sprinzak
The role of atoh1 genes in the development of the lower rhombic lip during zebrafish hindbrain morphogenesis
Ivan Belzunce, Cristina Pujades
Skeletal geometry and niche transitions restore organ size and shape during zebrafish fin regeneration
Scott Stewart, Gabriel A. Yette, Heather K. Le Bleu, Astra L. Henner, Joshua A. Braunstein, Jad W. Chehab, Michael J. Harms, Kryn Stankunas
Complementary functions of the mechanosensitive factors egr1, klf2b and klf2a instruct the endocardial program
Nathalie Faggianelli-Conrozier, Aikaterini Polyzou, Renee Chow, Stéphane Roth, Eirini Trompouki, Julien Vermot
Development of vascular myogenic responses in zebrafish
Nabila Bahrami, Sarah J. Childs
PLANAR POLARIZATION OF CILIA IN THE ZEBRAFISH FLOOR PLATE INVOLVES Par3-MEDIATED POSTERIOR LOCALIZATION OF HIGHLY MOTILE BASAL BODIES
Antoine Donati, Sylvie Schneider-Maunoury, Christine Vesque
Slit/Robo signals prevent spinal motor neuron emigration by organizing the spinal cord basement membrane
Minkyung Kim, Clare H Lee, Sarah J Barnum, Roland CJ Watson, Jennifer Li, Grant S Mastick
Greb1 is required for axial elongation and segmentation in vertebrate embryos
Ravindra Singh Prajapati, Richard Mitter, Annalisa Vezzaro, David Ish-Horowicz

Extracellular matrix-inducing Sox9 orchestrates basal progenitor proliferation and gliogenesis in developing neocortex
Ayse Güven, Denise Stenzel, Katherine R. Long, Marta Florio, Holger Brandl, Wieland B. Huttner
Tissue-specific changes in size and shape of the ligaments and tendons of the porcine knee during post-natal growth
Stephanie G. Cone, Hope E. Piercy, Emily P. Lambeth, Hongyu Ru, Jorge A. Piedrahita, Jeffrey T. Spang, Lynn A. Fordham, Matthew B. Fisher
Electric-induced reversal of morphogenesis in Hydra
Erez Braun, Hillel Ori
Activation of Smad 2/3 signaling by low shear stress mediates artery inward remodeling
Elizabeth Min, Nicolas Baeyens, Rui Hu, Zhenwu Zhuang, Minghao Chen, Billy Huang, Georgia Zarkada, Angela Acheampong, Kathleen McEntee, Michael Simons, Anne Eichmann, Martin A. Schwartz
Importance of Matrix-dimensionality in Regulating the Bone Marrow Hematopoietic Cells Pool
P. Zhang, C. Zhang, J. Han, J. Gao, W. Zhao, H. Yang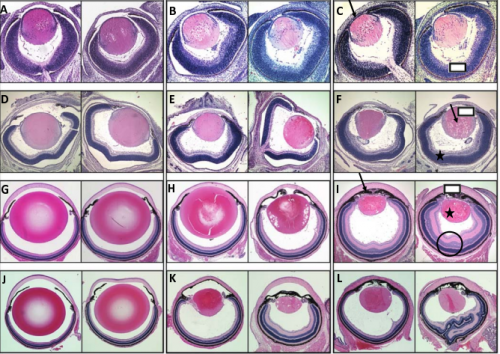 Gclc deletion in surface-ectoderm tissues induces microphthalmia
Brian Thompson, Ying Chen, Julien Philippe, David Anderson, Jaya Prakash Golla, Emily Davidson, Nicholas Apostolopoulos, Kevin Schey, Nicholas Katsanis, David J. Orlicky, David Thompson, Vasilis Vasiliou
TMEM16F phospholipid scramblase mediates trophoblast fusion and placental development
Yang Zhang, Trieu Le, Ryan Grabau, Zahra Mohseni, Hoejeong Kim, David R. Natale, Liping Feng, Hua Pan, Huanghe Yang
Stay hydrated: Basolateral fluids shaping tissues
Markus Schliffka, Jean-Léon Maître
| Genes & genomes
An hourglass pattern of inter-embryo gene expression variability and of histone regulation in fly embryogenesis
Jialin Liu, Michael Frochaux, Vincent Gardeux, Bart Deplancke, Marc Robinson-Rechavi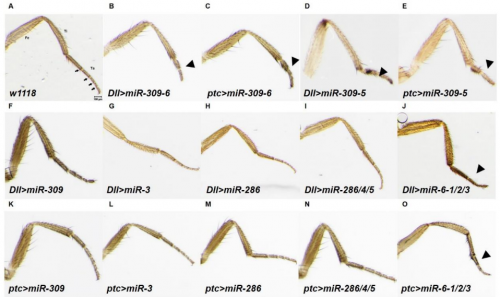 Varying constraints impact the miR-6/5/4/286/3/309 microRNA cluster in Drosophila leg development
Zhe Qu, Wing Chung Yiu, Ho Yin Yip, Wenyan Nong, Clare W.C. Yu, Ivy H.T. Lee, Annette Y.P. Wong, Nicola W.Y. Wong, Fiona K.M. Cheung, Ting Fung Chan, Kwok Fai Lau, Silin Zhong, Ka Hou Chu, Stephen S. Tobe, David E.K. Ferrier, William G. Bendena, Jerome H.L. Hui
The histone demethylase KDM5 controls developmental timing in Drosophila by promoting prothoracic gland endocycles
Coralie Drelon, Helen M. Belalcazar, Julie Secombe
Endocycling in the adult Drosophila accessory gland
Allison M. Box, Samuel Jaimian Church, David Hayes, Shyama Nandakumar, Russell S. Taichman, Laura Buttitta
Har-P, a short P-element variant, weaponizes P-transposase to severely impair Drosophila development
Satyam P. Srivastav, Reazur Rahman, Qicheng Ma, Nelson C. Lau
Homeodomain-interacting protein kinase (Hipk) is required for nervous system and muscle structure and function
Simon Wang, Donald A.R. Sinclair, Hae-Yoon Kim, Stephen D. Kinsey, Byoungjoo Yoo, Kenneth Kin-Lam Wong, Charles Krieger, Nicholas Harden, Esther M. Verheyen
An atlas of transcription factors expressed in the Drosophila melanogaster pupal terminalia
Ben J. Vincent, Gavin R. Rice, Gabriella M. Wong, William J. Glassford, Kayla I. Downs, Jessica L. Shastay, Kenechukwu Charles-Obi, Malini Natarajan, Madelaine Gogol, Julia Zeitlinger, Mark Rebeiz
Testis single-cell RNA-seq reveals the dynamics of de novo gene transcription and germline mutational bias in Drosophila
Evan Witt, Sigi Benjamin, Nicolas Svetec, Li Zhao
Regulation of nuclear-cytoplasmic partitioning by the lin-28-lin-46 pathway reinforces microRNA repression of HBL-1 to confer robust cell-fate progression in C. elegans
Orkan Ilbay, Victor Ambros
C. elegans LIN-28 controls temporal cell-fate progression by regulating LIN-46 expression via the 5'UTR of lin-46 mRNA
Orkan Ilbay, Charles Nelson, Victor Ambros
Liquid droplet germ granules require assembly and localized regulators for mRNA repression
Scott Takeo Aoki, Tina R Lynch, Sarah L Crittenden, Craig A Bingman, Marvin Wickens, Judith Kimble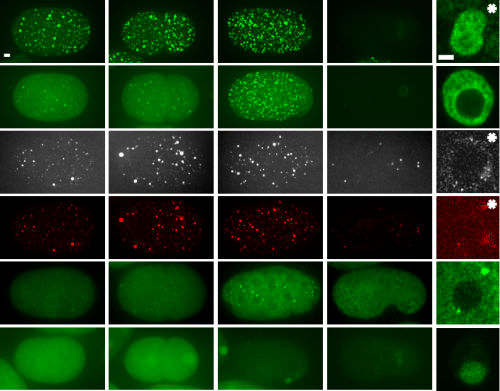 P granules protect RNA interference genes from silencing by piRNAs
John Paul T. Ouyang, Andrew Folkmann, Lauren Bernard, Chih-Yung Lee, Uri Seroussi, Amanda G. Charlesworth, Julie M. Claycomb, Geraldine Seydoux
Germ Granules Coordinate RNA-based Epigenetic Inheritance Pathways
Anne E. Dodson, Scott Kennedy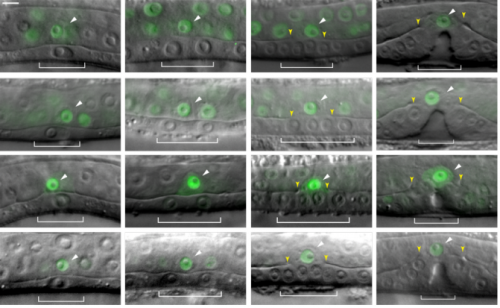 A developmental gene regulatory network for invasive differentiation of the C. elegans anchor cell
Taylor N. Medwig-Kinney, Jayson J. Smith, Nicholas J. Palmisano, Wan Zhang, David Q. Matus
The epigenomic landscape regulating organogenesis in human embryos linked to developmental disorders
Dave T. Gerrard, Andrew A. Berry, Rachel E. Jennings, Matthew J Birket, Sarah J Withey, Patrick Short, Sandra Jiménez-Gancedo, Panos N Firbas, Ian Donaldson, Andrew D. Sharrocks, Karen Piper Hanley, Matthew E Hurles, José Luis Gomez-Skarmeta, Nicoletta Bobola, Neil A. Hanley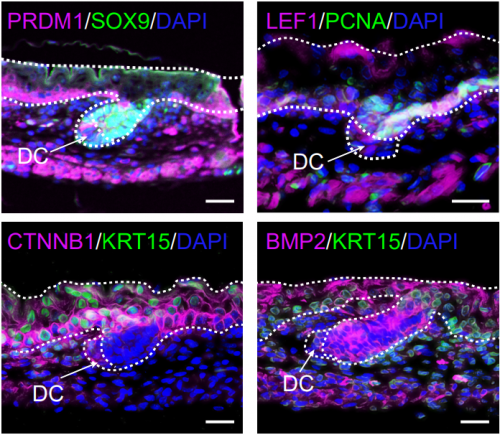 Single-cell transcriptome profiling reveals dermal and epithelium cell fate decisions during embryonic hair follicle development
Wei Ge, Shao-Jing Tan, Shan-He Wang, Lan Li, Xiao-Feng Sun, Wei Shen, Xin Wang
Single-cell RNA sequencing reveals mRNA splice isoform switching during kidney development
Yishay Wineberg, Tali Hana Bar-Lev, Anna Futorian, Nissim Ben-Haim, Leah Armon, Debby Ickowicz, Sarit Oriel, Efrat Bucris, Yishai Yehuda, Naomi Pode-Shakked, Shlomit Gilad, Sima Benjamin, Peter Hohenstein, Benjamin Dekel, Achia Urbach, Tomer Kalisky
Characterizing the Emergence of Liver and Gallbladder from the Embryonic Endoderm through Single-Cell RNA-Seq
Tianhao Mu, Liqin Xu, Yu Zhong, Xinyu Liu, Zhikun Zhao, Chaoben Huang, Xiaofeng Lan, Chengchen Lufei, Yi Zhou, Yixun Su, Luang Xu, Miaomiao Jiang, Hongpo Zhou, Xinxin Lin, Liang Wu, Siqi Peng, Shiping Liu, Susanne Brix, Michael Dean, Norris R. Dunn, Kenneth S. Zaret, Xin-Yuan Fu, Yong Hou
Cell types of the human retina and its organoids at single-cell resolution: developmental convergence, transcriptomic identity, and disease map
Cameron S. Cowan, Magdalena Renner, Brigitte Gross-Scherf, David Goldblum, Martin Munz, Jacek Krol, Tamas Szikra, Panagiotis Papasaikas, Rachel Cuttat, Annick Waldt, Roland Diggelmann, Claudia P. Patino-Alvarez, Nadine Gerber-Hollbach, Sven Schuierer, Yanyan Hou, Aldin Srdanovic, Marton Balogh, Riccardo Panero, Pascal W. Hasler, Akos Kusnyerik, Arnold Szabo, Michael B. Stadler, Selim Orgül, Andreas Hierlemann, Hendrik P. N. Scholl, Guglielmo Roma, Florian Nigsch, Botond Roska
Developmental Genome-Wide DNA Methylation Asymmetry Between Mouse Placenta and Embryo
LM Legault, K Doiron, A Lemieux, M Caron, D Chan, FL Lopes, G Bourque, D Sinnett, S McGraw
Temporal regulation of prenatal embryonic development by paternal imprinted loci
Qing Li, Yuanyuan Li, Qi Yin, Shuo Huang, Kai Wang, Liangchai Zhuo, Wei Li, Boran Chang, Jinsong Li
Combined single-cell and spatial transcriptomics reveals the molecular, cellular and spatial bone marrow niche organization
Chiara Baccin, Jude Al-Sabah, Lars Velten, Patrick M. Helbling, Florian Grünschläger, Pablo Hernández-Malmierca, César Nombela-Arrieta, Lars M. Steinmetz, Andreas Trumpp, Simon Haas
Genome-wide analysis reveals a switch in the translational program upon oocyte meiotic resumption
Xuan G. Luong, Enrico Maria Daldello, Gabriel Rajkovic, Cai-Rong Yang, Marco Conti
Targeted demethylation of H3K9me3 and H3K36me3 improves somatic cell reprogramming into cloned preimplantation but not postimplantation bovine concepti
Fanli Meng, Kathrin Stamms, Romina Bennewitz, Andria Green, Fleur Oback, Pavla Turner, Jingwei Wei, Björn Oback
Lysine demethylase 7a regulates the anterior-posterior development in mouse by modulating the transcription of Hox gene cluster
Yoshiki Higashijima, Nao Nagai, Taro Kitazawa, Yumiko Kawamura, Akashi Taguchi, Natsuko Nakada, Masaomi Nangaku, Tetsushi Furukawa, Hiroyuki Aburatani, Hiroki Kurihara, Youichiro Wada, Yasuharu Kanki
Dynamic regulation of chromatin accessibility by pluripotency transcription factors across the cell cycle
Elias T. Friman, Cédric Deluz, Antonio C.A. Meireles-Filho, Subashika Govindan, Vincent Gardeux, Bart Deplancke, David M. Suter
Nanog regulates Pou3f1 expression and represses anterior fate at the exit from pluripotency
Antonio Barral, Isabel Rollan, Hector Sanchez-Iranzo, Wajid Jawaid, Claudio Badia-Careaga, Sergio Menchero, Manuel J. Gomez, Carlos Torroja, Fatima Sanchez-Cabo, Berthold Göttgens, Miguel Manzanares, Julio Sainz de Aja
A Nanog-dependent gene cluster initiates the specification of the pluripotent epiblast
Nicolas Allègre, Sabine Chauveau, Cynthia Dennis, Yoan Renaud, Lorena Valverde Estrella, Pierre Pouchin, Michel Cohen-Tannoudji, Claire Chazaud
Tissue-specific expression of NANOG gene in human eye
Yuliya Markitantova​​, Yulia Smirnova​, Rina Zinovieva
MicroRNA-378 suppressed osteogenesis of mesenchymal stem cells and impaired bone formation via inactivating Wnt/β-catenin signaling
Lu Feng, Jin-fang Zhang, Liu Shi, Zheng-meng Yang, Tian-yi Wu, Hai-xing Wang, Wei-ping Lin, Ying-fei Lu, Jessica Hiu Tung Lo, Da-hai Zhu, Gang Li
miR-1/206 down-regulates splicing factor Srsf9 to promote myogenesis
Kristen K. Bjorkman, Massimo Buvoli, Emily K. Pugach, Michael M. Polmear, Leslie A. Leinwand
Nup93 and CTCF co-modulate spatiotemporal dynamics and function of the HOXA gene cluster during differentiation
Ajay S. Labade, Adwait Salvi, Krishanpal Karmodiya, Kundan Sengupta
Histone methyltransferase MMSET/NSD2 is essential for generation of B1 cell compartment in mice
Marc-Werner Dobenecker, Vyacheslav Yurchenko, Jonas Marcello, Annette Becker, Eugene Rudensky, Natarajan V. Bahnu, Thomas Carrol, Benjamin A. Garcia, Brad R. Rosenberg, Rabinder Prinjha, Alexander Tarakhovsky
EXOSC10 mediated RNA degradation sculpts the transcriptome during oocyte growth-to-maturation transition
Di Wu, Cameron Palmer, Jurrien Dean
TALE and NF-Y co-occupancy marks enhancers of developmental control genes during zygotic genome activation in zebrafish
William Stanney III, Franck Ladam, Ian J. Donaldson, Teagan J. Parsons, René Maehr, Nicoletta Bobola, Charles G Sagerström
Translation elongation factor 1A2 (eEF1A2) is encoded by one of four closely related eef1a genes and is dispensable for survival in zebrafish
Nwamaka J. Idigo, Dinesh C. Soares, Catherine M. Abbott
| Stem cells, regeneration & disease modelling

Myf6/MRF4 is a Myogenic Niche Regulator Required for the Maintenance of the Muscle Stem Cell Pool
Felicia Lazure, Darren M. Blackburn, Nabila Karam, Korin Sahinyan, Ahmad Sharanek, Duy Nguyen, Aldo H. Corchado, Christoph Lepper, Hamed S. Najafabadi, Theodore J. Perkins, Arezu Jahani-Asl, Vahab Soleimani
LncRNA Mrhl orchestrates differentiation programs in mouse embryonic stem cells through chromatin mediated regulation
Debosree Pal, C V Neha, Utsa Bhaduri, Zenia, Subbulakshmi Chidambaram, M.R.S Rao
Hair-bearing human skin generated entirely from pluripotent stem cells
Jiyoon Lee, Cyrus Rabbani, Hongyu Gao, Matthew Steinhart, Benjamin M. Woodruff, Zachary Pflum, Alexander Kim, Stefan Heller, Yunlong Liu, Taha Z. Shipchandler, Karl R. Koehler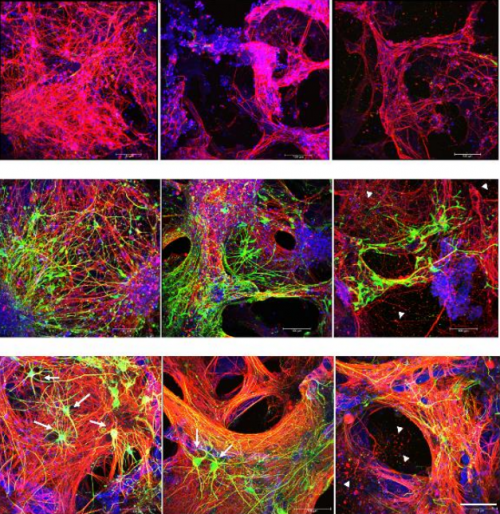 Functional maturation of human neural stem cells in a 3D bioengineered brain model enriched with fetal brain-derived matrix
Disha Sood, Dana M. Cairns, Jayanth M. Dabbi, Charu Ramakrishnan, Karl Deisseroth, Lauren D. Black III, Sabato Santaniello, David L. Kaplan
High-content interrogation of human induced pluripotent stem cell-derived cortical organoid platforms
Madel Durens, Jonathan Nestor, Kevin Herold, Robert F. Niescier, Jason W. Lunden, Andre W. Phillips, Yu-Chih Lin, Michael W. Nestor
Stem-cell-ubiquitous genes spatiotemporally coordinate division through regulation of stem-cell-specific gene networks
Natalie M Clark, Eli Buckner, Adam P Fisher, Emily C Nelson, Thomas T Nguyen, Abigail R Simmons, Maria A de Luis Balaguer, Tiara Butler-Smith, Parnell J Sheldon, Dominique C Bergmann, Cranos M Williams, Rosangela Sozzani
Dual SMAD inhibition and Wnt inhibition enhances the differentiation of induced pluripotent stem cells into Retinal Ganglion cells (iPSC-RGCs)
Venkata R. M. Chavali, Naqi Haider, Sonika Rathi, Teja Alapati, Jie He, Kamaljot Gill, Sergei Nikonov, Roman Nikonov, Thu T. Duong, Devin S. McDougald, Joan O' Brien, Jason A. Mills
Muscle-secreted G-CSF as a metabolic niche factor ameliorates loss of muscle stem cell in aged mice
Hu Li, Qian Chen, Changyin Li, Ran Zhong, Yixia Zhao, Qianying Zhang, Weimin Tong, Dahai Zhu, Yong Zhang
Cryopreservation of human pluripotent stem cell-derived cardiomyocytes is not detrimental to their molecular and functional properties
Lettine van den Brink, Karina O. Brandão, Catarina Grandela, Mervyn P.H. Mol, Christine L. Mummery, Arie O. Verkerk, Richard P. Davis
Single Cell Analysis Reveals Partial Reactivation of X-chromosome Instead of chromosome wide dampening in Naïve Human Pluripotent Stem Cells
S Mandal, D Chandel, H Kaur, S Majumdar, M Arava, S Gayen
Robust generation of erythroid and multilineage hematopoietic progenitors from human iPSCs using a scalable monolayer culture system
Juan Pablo Ruiz, Guibin Chen, Juan Jesus Haro Mora, Keyvan Keyvanfar, Chengyu Liu, Jizhong Zou, Jeanette Beers, Hanan Bloomer, Husam Qanash, Naoya Uchida, John F. Tisdale, Manfred Boehm, Andre Larochelle
The Bric-à-Brac transcription factors are necessary for formation of functional germline stem cell niches through control of dpp expression in the Drosophila melanogaster ovary
Laurine Miscopein Saler, Mathieu Bartoletti, Virginie Hauser, Anne-Marie Pret, Laurent Theodore, Fabienne Chalvet, Sophie Netter
Cross-species transcriptomic and epigenomic analysis reveals key regulators of injury response and neuronal regeneration in vertebrate retinas
Thanh Hoang, Jie Wang, Patrick Boyd, Fang Wang, Clayton Santiago, Lizhi Jiang, Manuela Lahne, Levi J. Todd, Cristian Saez, Sooyeon Yoo, Casey Keuthan, Isabella Palazzo, Natalie Squires, Warren A. Campbell, Meng Jia, Fatemeh Rajaii, Trisha Payail, Guohua Wang, John Ash, Andy J. Fischer, David R. Hyde, Jiang Qian, Seth Blackshaw
Cardiac valve regeneration in adult zebrafish: importance of TGFß signaling in new tissue formation
Anabela Bensimon-Brito, Srinath Ramkumar, Giulia L. M. Boezio, Stefan Guenther, Carsten Kuenne, Héctor Sánchez-Iranzo, Dijana Iloska, Janett Piesker, Soni Pullamsetti, Nadia Mercader, Dimitris Beis, Didier Y. R. Stainier
Estrogen accelerates heart regeneration by promoting inflammatory responses in zebrafish
Shisan Xu, Fangjing Xie, Samane Fallah, Fatemeh Babaei, Lina Zhu, Kin Fung Wong, Yimin Liang, Rajkumar Ramalingam, Lei Sun, Xin Wang, Yun Wah Lam, Shuk Han Cheng
Distribution and restoration of serotonin-immunoreactive paraneuronal cells during caudal fin regeneration in zebrafish
Désirée König, Paule Dagenais, Anita Senk, Valentin Djonov, Christof M. Aegerter, Anna Jaźwińska
Single-Cell RNA-Seq Reveals Novel Mitochondria-related Musculoskeletal Cell Populations during Adult Axolotl Limb Regeneration Process
Tian Qin, Chun-mei Fan, Ting-zhang Wang, Long Yang, Wei-liang Shen, Heng Sun, Jun-xin Lin, Magali Cucchiarini, Nicholas D. Clement, Christopher E. Mason, Varitsara Bunpetch, Norimasa Nakamura, Rameah Bhonde, Nicholas D. Clement, Zi Yin, Xiao Chen
Comparison of Gene Expression During Early Phases of Limb Regeneration Between Regeneration-permissive Neotenic and Regeneration-deficient Metamorphic Axolotl
Mustafa Sibai, Ebru Altuntaş, Barış Ethem Süzek, Betül Şahin, Cüneyd Parlayan, Gürkan Öztürk, Ahmet Tarık Baykal, Turan Demircan
Integrative Analysis of Axolotl Gene Expression Data From Regenerative and Wound Healing Limb Tissues
Mustafa Sibai, Cüneyd Parlayan, Pelin Tuğlu, Gürkan Öztürk, Turan Demircan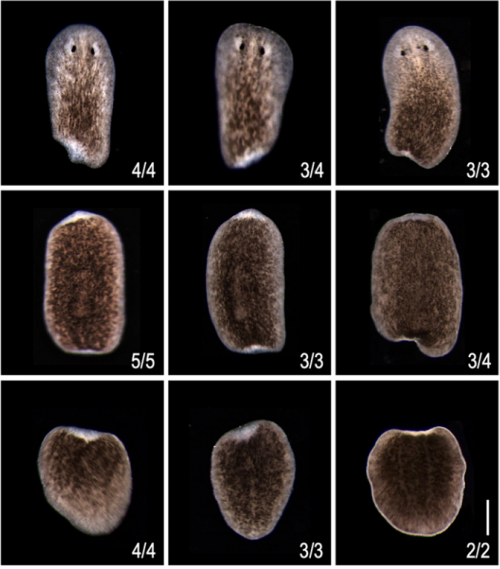 Hydrogen peroxide as regeneration-initiation signal that activates pERK to trigger planarian regeneration
Vincent Jaenen, Susanna Fraguas, Karolien Bijnens, Mireia Vaca, Tom Artois, Rafael Romero, Karen Smeets, Francesc Cebrià
From injury to full repair: nerve regeneration and functional recovery in the common octopus, Octopus vulgaris
Pamela Imperadore, Dario Parazzoli, Amanda Oldani, Michael Duebbert, Ansgar Büschges, Graziano Fiorito
Molecular and cellular correlates of human nerve regeneration: ADCYAP1 encoding PACAP enhances sensory neuron outgrowth
Annina B Schmid, Georgios Baskozos, Katherine Windsor, Pall Karlsson, Oliver Sandy-Hindmarch, Greg A Weir, Lucy A McDermott, Alex J Clark, Joanna Burchall, Akira Wiberg, Dominic Furniss, David LH Bennett
Probabilistic Assessment of Nerve Regeneration with Diffusion MRI: Validation in Rat Models of Peripheral Nerve Trauma
Isaac V. Manzanera Esteve, Angel F. Farinas, Alonda C. Pollins, Marlieke E. Nussenbaum, Nancy L. Cardwell, Hakmook Kang, Mark D. Does, Wesley P. Thayer, Richard D. Dortch
Longitudinal single cell transcriptomics reveals Krt8+ alveolar epithelial progenitors in lung regeneration
Maximilian Strunz, Lukas M. Simon, Meshal Ansari, Laura F. Mattner, Ilias Angelidis, Christoph H. Mayr, Jaymin Kathiriya, Min Yee, Paulina Ogar, Arunima Sengupta, Igor Kukhtevich, Robert Schneider, Zhongming Zhao, Jens H.L. Neumann, Jürgen Behr, Carola Voss, Tobias Stöger, Mareike Lehmann, Melanie Königshoff, Gerald Burgstaller, Michael O'Reilly, Harold A. Chapman, Fabian J. Theis, Herbert B. Schiller
Finite Element and deformation analyses predict pattern of bone failure in loaded zebrafish spines
Elis Newman, Erika Kague, Jessye A. Aggleton, Christianne Fernee, Kate Robson Brown, Chrissy L Hammond
A CRISPR/Cas9-generated mutation in the zebrafish orthologue of PPP2R3B, located within the Turner syndrome critical interval, causes idiopathic scoliosis
Marian Seda, Berta Crespo, Michelangelo Corcelli, Daniel P. Osborn, Dagan Jenkins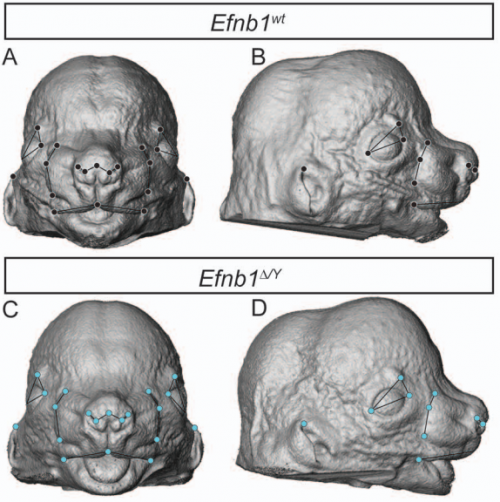 Aberrant cell segregation in craniofacial primordia and the emergence of facial dysmorphology in craniofrontonasal syndrome
Terren K. Niethamer, Christopher J. Percival, Teng Teng, Melanie Franco, Yu Xin Du, Jeffrey O. Bush
Loss of acid sphingomyelinase ameliorates disease progression in a vertebrate model of Glucocerebrosidase deficiency
Marcus Keatinge, Matthew E. Gegg, Lisa Watson, Heather Mortiboys, Hai Bui, Astrid van Rens, Dirk J. Lefeber, Ryan B. MacDonald, Anthony H.V. Schapira, Oliver Bandmann
Nucleolar stress in Drosophila neuroblasts, a model for human ribosomopathies
Sonu Shrestha Baral, Molly E. Lieux, Patrick J. DiMario
The Ufm1 system is upregulated by ER stress during osteogenic differentiation
Michal Dudek, Gillian A. Wallis
DDIT3 (CHOP) contributes to retinal ganglion cell somal loss but not axonal degeneration in DBA/2J mice
Olivia J. Marola, Stephanie B. Syc-Mazurek, Richard T. Libby
| Plant development
An Evolutionarily Conserved Receptor-like Kinases Signaling Module Controls Cell Wall Integrity During Tip-Growth
Jens Westermann, Susanna Streubel, Christina Maria Franck, Roswitha Lentz, Liam Dolan, Aurélien Boisson-Dernier
Lateral organ diversification in plants mediated by the ALOG protein family of transcription factors
Satoshi Naramoto, Victor Arnold Shivas Jones, Nicola Trozzi, Mayuko Sato, Kiminori Toyooka, Masaki Shimamura, Sakiko Ishida, Kazuhiko Nishitani, Kimitsune Ishizaki, Ryuichi Nishihama, Takayuki Kohchi, Liam Dolan, Junko Kyozuka
Functional divergence of two duplicated Fertilization Independent Endosperm genes in rice with respect to seed development
Meiyao Pan, Xiaojun Cheng, E Zhiguo, Baixiao Niu, Chen Chen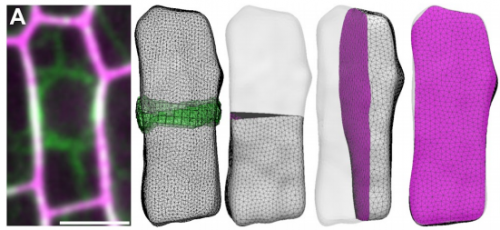 TANGLED1 mediates interactions between microtubules that may promote spindle organization and phragmoplast guidance to the division site in maize
Pablo Martinez, Ram Dixit, Rachappa S. Balkunde, Seán E. O'Leary, Kenneth A. Brakke, Carolyn G. Rasmussen
ALI-1, candidate gene of B1 locus, is associated with awn length and grain weight in common wheat
Dongzhi Wang, Kang Yu, Di Jin, Linhe Sun, Jinfang Chu, Wenying Wu, Peiyong Xin, Xin Li, Jiazhu Sun, Wenlong Yang, Kehui Zhan, Aimin Zhang, Dongcheng Liu
Genetic screening for mutants with altered seminal root numbers in hexaploid wheat using a high-throughput root phenotyping platform
Oluwaseyi Shorinola, Ryan Kaye, Guy Golan, Zvi Peleg, Stefan Kepinski, Cristobal Uauy
Heritable temporal gene expression patterns correlate with metabolomic seed content in developing hexaploid oat seed
Haixiao Hu, Juan J. Gutierrez-Gonzalez, Xinfang Liu, Trevor H. Yeats, David F. Garvin, Owen A. Hoekenga, Mark E. Sorrells, Michael A. Gore, Jean-Luc Jannink
Structural basis for recognition of RALF peptides by LRX proteins during pollen tube growth
Steven Moussu, Caroline Broyart, Gorka Santos-Fernandez, Sebastian Augustin, Sarah Wehrle, Ueli Grossniklaus, Julia Santiago
PIN-LIKES coordinate brassinosteroid signalling with nuclear auxin input in Arabidopsis thaliana
Lin Sun, Elena Feraru, Mugurel I. Feraru, Krzysztof Wabnik, Jürgen Kleine-Vehn
The MADS-box transcription factor PHERES1 controls imprinting in the endosperm by binding to domesticated transposons
Rita A. Batista, Jordi Moreno-Romero, Yichun Qiu, Joram van Boven, Juan Santos-González, Duarte D. Figueiredo, Claudia Köhler
CELLULOSE SYNTHASE INTERACTIVE1- and Microtubule-Dependent Cell Wall Architecture Is Required for Acid Growth in Arabidopsis Hypocotyls
Xiaoran Xin, Lei Lei, Yunzhen Zheng, Tian Zhang, Sai Venkatesh Pingali, Hugh O'Neill, Daniel J. Cosgrove, Shundai Li, Ying Gu
ARABIDOPSIS NITRATE REGULATED 1 acts as a negative modulator of seed germination by activating ABI3 expression
Jia-Hui Lin, Lin-Hui Yu, Cheng-Bin Xiang
Coordination of Tissue Cell Polarity by Auxin Transport and Signaling
Carla Verna, Sree Janani Ravichandran, Megan G. Sawchuk, Nguyen Manh Linh, Enrico Scarpella
Origination of the circadian clock system in stem cells regulates cell differentiation
Kotaro Torii, Keisuke Inoue, Keita Bekki, Kazuya Haraguchi, Minoru Kubo, Yuki Kondo, Takamasa Suzuki, Hanako Shimizu, Kyohei Uemoto, Masato Saito, Hiroo Fukuda, Takashi Araki, Motomu Endo
Altered stomatal patterning accompanies a trichome dimorphism in a natural population of Arabidopsis
Noriane M. L. Simon, Jiro Sugisaka, Mie N. Honjo, Sverre Aarseth Tunstad, George Tunna, Hiroshi Kudoh, Antony N. Dodd
Discrete mechanical growth model for plant tissue
Louis D. Weise, Kirsten H. W. J. ten Tusscher
Evo-devo & evo
Selection against expression noise explains the origin of the hourglass pattern of Evo-Devo
Jialin Liu, Michael Frochaux, Vincent Gardeux, Bart Deplancke, Marc Robinson-Rechavi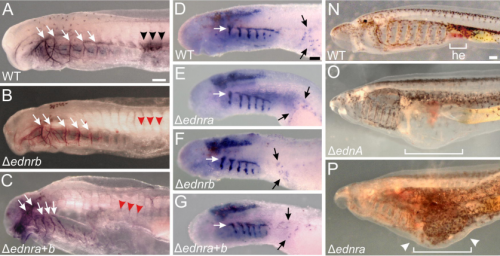 Cooption and Specialization of Endothelin Signaling Pathways Drove Elaboration of the Neural Crest in Early Vertebrates
Tyler Alexander Square, David Jandzik, James Lee Massey, Marek Romasek, Haley Paula Stein, Andrew Wesley Hansen, Amrita Purkayastha, Maria Valerie Cattell, Daniel Meulemans Medeiros
Evolution of abbreviated development in Heliocidaris erythrogramma dramatically re-wired the highly conserved sea urchin developmental gene regulatory network to decouple signaling center function from ultimate fate
Allison Edgar, Maria Byrne, David R McClay, Gregory A Wray
Maternally-regulated gastrulation as a source of variation contributing to cavefish forebrain evolution
Jorge Torres-Paz, Julien Leclercq, Sylvie Rétaux

Morphogenetic and patterning defects explain the coloboma phenotype of the eye in the Mexican cavefish
Lucie Devos, Florent Klee, Joanne Edouard, Victor Simon, Laurent Legendre, Naima El Khallouki, Maryline Blin, Sosthène Barbachou, Frédéric Sohm, Sylvie Rétaux
Retinal morphology in Astyanax mexicanus during degeneration
Amany Emam, Marina Yoffe, Henry Cardona, Daphne Soares
Evolutionary loss of foot muscle during development with characteristics of atrophy and no evidence of cell death
Mai P. Tran, Rio Tsutsumi, Joel M. Erberich, Kevin D. Chen, Michelle D. Flores, Kimberly L. Cooper
Shifting roles of Drosophila pair-rule gene orthologs: segmental expression and function in the milkweed bug Oncopeltus fasciatus
Katie Reding, Mengyao Chen, Yong Lu, Alys M. Cheatle Jarvela, Leslie Pick
Restoring ancestral phenotypes by reduction of plasticity is a general pattern in gene expression during adaptation to different stressors in Tribolium castaneum
Eva L. Koch, Frédéric Guillaume
Transcription factor NF-κB in a basal metazoan, the sponge, has conserved and unique sequences, activities, and regulation
Leah M. Williams, Melissa M. Inge, Katelyn M. Mansfield, Anna Rasmussen, Jamie Afghani, Mikhail Agrba, Colleen Albert, Cecilia Andersson, Milad Babaei, Mohammad Babaei, Abigail Bagdasaryants, Arianna Bonilla, Amanda Browne, Sheldon Carpenter, Tiffany Chen, Blake Christie, Andrew Cyr, Katie Dam, Nicholas Dulock, Galbadrakh Erdene, Lindsie Esau, Stephanie Esonwune, Anvita Hanchate, Xinli Huang, Timothy Jennings, Aarti Kasabwala, Leanne Kehoe, Ryan Kobayashi, Migi Lee, Andre LeVan, Yuekun Liu, Emily Murphy, Avanti Nambiar, Meagan Olive, Devansh Patel, Flaminio Pavesi, Christopher A. Petty, Yelena Samofalova, Selma Sanchez, Camilla Stejskal, Yinian Tang, Alia Yapo, John P. Cleary, Sarah A. Yunes, Trevor Siggers, Thomas D. Gilmore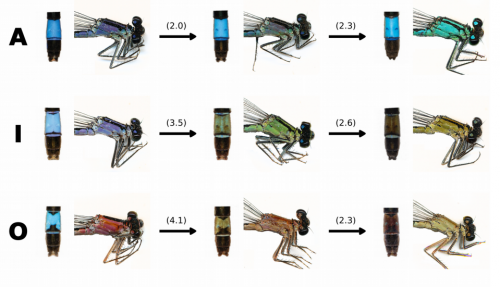 Gene expression changes during female reproductive development in a colour polymorphic insect
B. Willink, M. C. Duryea, C. Wheat, E. I. Svensson
Laboratory culture of the California Sea Firefly Vargula tsujii (Ostracoda: Cypridinidae): Developing a model system for the evolution of marine bioluminescence
Jessica A. Goodheart, Geetanjali Minsky, Mira N. Brynjegard-Bialik, Michael S. Drummond, J. David Munoz, Timothy R. Fallon, Darrin T. Schultz, Jing-Ke Weng, Elizabeth Torres, Todd H. Oakley
A scalable culturing system for the marine annelid Platynereis dumerilii
Emily Kuehn, Alexander W. Stockinger, Jerome Girard, Florian Raible, B. Duygu Özpolat
The Role of the Sex Chromosomes in the Inheritance of Species Specific Traits of the Shape of the Copulatory Organ in Drosophila
Alex M. Kulikov, Svetlana Yu. Sorokina, Anton I. Melnikov, Nick G. Gornostaev, Dmitriy G. Seleznev, Oleg E. Lazebny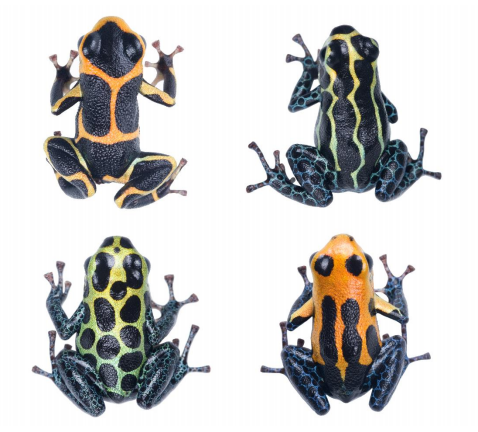 Differential gene expression and gene variants drive color and pattern development in divergent color morphs of a mimetic poison frog
Adam M M Stuckert, Tyler Linderoth, Matthew D MacManes, Kyle Summers
Meiotic drive reduces egg-to-adult viability in stalk-eyed flies
Sam Ronan Finnegan, Nathan Joseph White, Dixon Koh, M. Florencia Camus, Kevin Fowler, Andrew Pomiankowski
Gradual evolution of cell cycle regulation by cyclin-dependent kinases during the transition to animal multicellularity
Alberto Perez-Posada, Omaya Dudin, Eduard Ocaña-Pallarès, Iñaki Ruiz-Trillo, Andrej Ondracka
Coevolution between life-history and metabolic rate depends on ontogenetic stage
Will Sowersby, Sergey Morozov, Simon Eckerström-Liedholm, Philipp Lehmann, Piotr K. Rowiński, Joacim Näslund, Alejandro Gonzalez-Voyer, Björn Rogell
Systems biology approach to the origin of the tetrapod limb
Koh Onimaru, Luciano Marcon
Cell biology
Changes in endolysosomal organization define a pre-degenerative state in the crumbs mutant Drosophila retina
Rachel S. Kraut, Elisabeth Knust
Rab28 is localised to photoreceptor outer segments, regulates outer segment shedding but is not linked to retinal degeneration in zebrafish
Stephen P. Carter, Ailís L. Moran, David Matallanas, Gavin J. McManus, Oliver E. Blacque, Breandán N. Kennedy
Microridges are apical projections formed of branched F-actin networks that organize the glycan layer
Clyde Savio Pinto, Ameya Khandekar, Rajasekaran Bhavna, Petra Kiesel, Gaia Pigino, Mahendra Sonawane
Efa6 protects axons and regulates their growth and branching by inhibiting microtubule polymerisation at the cortex
Yue Qu, Ines Hahn, Meredith Lees, Jill Parkin, André Voelzmann, Karel Dorey, Alex Rathbone, Claire Friel, Viki Allan, Pilar Okenve-Ramos, Natalia Sanchez-Soriano, Andreas Prokop
Phase separation of YAP reorganizes genome topology for long-term, YAP target gene expression
Danfeng Cai, Daniel Feliciano, Peng Dong, Eduardo Flores, Martin Gruebele, Natalie Porat-Shliom, Shahar Sukenik, Zhe Liu, Jennifer Lippincott-Schwartz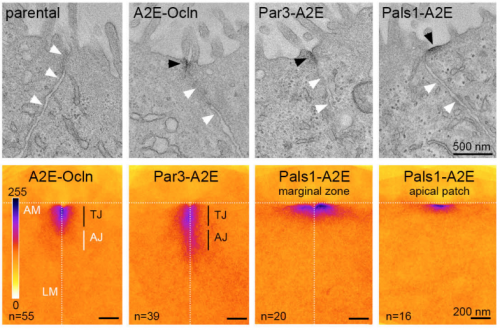 Quantitative proximity proteomics resolves the epithelial apical-lateral border and uncovers a vertebrate marginal zone defined by the polarity protein Pals1
Benedict Tan, Suat Peng, Sara Sandin, Jayantha Gunaratne, Walter Hunziker, Alexander Ludwig
Optogenetics reveals Cdc42 local activation by scaffold-mediated positive feedback and Ras GTPase
Iker Lamas, Laura Merlini, Aleksandar Vještica, Vincent Vincenzetti, Sophie G Martin
A novel interplay between GEFs orchestrates Cdc42 activity during cell polarity and cytokinesis
Brian S. Hercyk, Julie T. Rich-Robinson, Ahmad S. Mitoubsi, Marcus A. Harrell, Maitreyi E. Das
Microtubules control cellular shape and coherence in amoeboid migrating cells
Aglaja Kopf, Joerg Renkawitz, Robert Hauschild, Irute Girkontaite, Kerry Tedford, Jack Merrin, Oliver Thorn-Seshold, Dirk Trauner, Hans Haecker, Klaus Dieter Fischer, Eva Kiermaier, Michael Sixt
Ins2 gene bursting activity defines a mature β-cell state
Honey Modi, Søs Skovsø, Cara Ellis, Nicole A.J. Krentz, Yiwei Bernie Zhao, Haoning Cen, N Noursadeghi, Evgeniy Panzhinskiy, Xiaoke Hu, Derek A. Dionne, Shouhong Xuan, Mark O. Huising, Timothy J. Kieffer, Francis C. Lynn, James D. Johnson
Dynamic trafficking and turnover of Jam-C is essential for endothelial cell migration
Katja B. Kostelnik, Amy Barker, Christopher Schultz, Vinothini Rajeeve, Ian J. White, Michel Aurrand-Lions, Sussan Nourshargh, Pedro Cutillas, Thomas D. Nightingale
Centrioles are amplified via rosette formation in cycling progenitors of olfactory sensory neurons
Kaitlin Ching, Tim Stearns
A live-cell screen for altered Erk dynamics reveals principles of proliferative control
Alexander G. Goglia, Maxwell Z. Wilson, Jillian Silbert, Lena P. Basta, Siddhartha G. Jena, Danelle Devenport, Jared E. Toettcher
Tyrosine-based Signals Converge on Daple•PARD3 Complex to Fine-tune Polarized Planar Cell Migration
Jason Ear, Anokhi Saklecha, Majid Ghassemian, Irina Kufareva, Pradipta Ghosh
OLA1 is responsible for normal spindle assembly and SAC activation in mouse oocytes
Di Xie, Juan Zhang, JinLi Ding, Jing Yang​, Yan Zhang
Modelling

Model to link cell shape and polarity with organogenesis
Bjarke Frost Nielsen, Silas Boye Nissen, Kim Sneppen, Ala Trusina, Joachim Mathiesen
Reaction diffusion plus growth: A numerical model for Turing morphogenesis and Ben Jacob patterns
Kai Trepka
Mathematical modeling with single-cell sequencing data
Heyrim Cho, Russell C. Rockne
Cell Fate Clusters in ICM Organoids Arise from Cell Fate Heredity & Division – a Modelling Approach
T. Liebisch, A. Drusko, B. Mathew, E. H. K. Stelzer, S. C. Fischer, F. Matthäus
A predictive model of intercellular tension and cell-matrix mechanical interactions in a multicellular geometry
Lewis E. Scott, Lauren A. Griggs, Vani Narayanan, Daniel E. Conway, Christopher A. Lemmon, Seth H. Weinberg
The role of actin protrusion dynamics in cell migration through a degradable viscoelastic extracellular matrix: Insights from a computational model
Tommy Heck, Diego A. Vargas, Bart Smeets, Herman Ramon, Paul Van Liedekerke, Hans Van Oosterwyck
Free-energy-based framework for early forecasting of stem cell differentiation
H. Suresh, S.S. Shishvan, A. Vigliotti, V.S. Deshpande
A tractable mathematical model for tissue growth
Joe Eyles, John F. King, Vanessa Styles
Tools & resources
A water-soluble, synthetic auxin analog for rapid degradation of target proteins during C. elegans development
Michael A. Martinez, Brian A. Kinney, Guinevere Ashley, James M. Ragle, Christopher M. Hammell, Jordan D. Ward, David Q. Matus
ΔSCOPE: A new method to quantify 3D biological structures and identify differences in zebrafish forebrain development
Morgan S Schwartz, Jake Schnabl, Mackenzie Litz, Benjamin S. Baumer, Michael Barresi
A Cre-amplifier to generate and detect genetic mosaics in vivo
Francesco Trovato, Riccardo Parra, Enrico Pracucci, Silvia Landi, Olga Cozzolino, Gabriele Nardi, Federica Cruciani, Laura Mosti, Andrzej Cwetsch, Laura Cancedda, Laura Gritti, Carlo Sala, Chiara Verpelli, Andrea Maset, Claudia Lodovichi, Gian Michele Ratto
Photoswitchable microtubule inhibitors enabling robust, GFP-orthogonal optical control over the tubulin cytoskeleton
Li Gao, Yvonne Kraus, Maximilian Wranik, Tobias Weinert, Stefanie D. Pritzl, Joyce Meiring, Rebekkah Bingham, Natacha Olieric, Anna Akhmanova, Theobald Lohmüller, Michel O. Steinmetz, Oliver Thorn-Seshold
Lessons in genome engineering: opportunities, tools and pitfalls
Ingrid Poernbacher, Sam Crossman, Joachim Kurth, Hisashi Nojima, Alberto Baena-Lopez, Cyrille Alexandre, Jean-Paul Vincent
Efficient generation of zebrafish maternal-zygotic mutants through transplantation of ectopically induced and Cas9/gRNA targeted PGCs
Fenghua Zhang, Xianmei Li, Mudan He, Ding Ye, Feng Xiong, Golpour Amin, Zuoyan Zhu, Yonghua Sun
ORANGE: A CRISPR/Cas9-based genome editing toolbox for epitope tagging of endogenous proteins in neurons
Jelmer Willems, Arthur P.H. de Jong, Nicky Scheefhals, Harold D. MacGillavry
CRISPR interference-based platform for multimodal genetic screens in human iPSC-derived neurons
Ruilin Tian, Mariam A. Gachechiladze, Connor H. Ludwig, Matthew T. Laurie, Jason Y. Hong, Diane Nathaniel, Anika V. Prabhu, Michael S. Fernandopulle, Rajan Patel, Mehrnoosh Abshari, Michael E. Ward, Martin Kampmann
Isolation of secreted proteins from Drosophila ovaries and embryos through in vivo BirA-mediated biotinylation
Leslie M. Stevens, Yuan Zhang, Yuri Volnov, Geng Chen, David S. Stein
The laboratory domestication of zebrafish: from diverse populations to inbred substrains
Jaanus Suurväli, Andrew R Whiteley, Yichen Zheng, Karim Gharbi, Maria Leptin, Thomas Wiehe
Volumetric Segmentation of Cell Cycle Markers in Confocal Images
Faraz Ahmad Khan, Ute Voß, Michael P Pound, Andrew P French
Differential expansion microscopy
Sebastian P. Pernal, Asiri Liyanaarachchi, Domenico L. Gatti, Brent Formosa, Rishika Pulvender, Eric R. Kuhn, Rafael Ramos, Akshata R. Naik, Kathleen George, Suzan Arslanturk, Douglas J. Taatjes, Bhanu P. Jena
Evaluation of direct grafting strategies in Expansion Microscopy
Gang Wen, Marisa Vanheusden, Aline Acke, Donato Vali, Simon Finn Mayer, Robert K. Neely, Volker Leen, Johan Hofkens
μDamID: a microfluidic approach for imaging and sequencing protein-DNA interactions in single cells
Nicolas Altemose, Annie Maslan, Andre Lai, Jonathan A. White, Aaron M. Streets
Transcriptome profiling of mouse samples using nanopore sequencing of cDNA and RNA molecules
Camille Sessegolo, Corinne Cruaud, Corinne Da Silva, Audric Cologne, Marion Dubarry, Thomas Derrien, Vincent Lacroix, Jean-Marc Aury
RNA-Bloom provides lightweight reference-free transcriptome assembly for single cells
Ka Ming Nip, Readman Chiu, Chen Yang, Justin Chu, Hamid Mohamadi, René L. Warren, Inanc Birol
tagPAINT: covalent labelling of genetically encoded protein tags for DNA-PAINT imaging
Daniel J. Nieves, Geva Hilzenrat, Jason Tran, Zhengmin Yang, Hugh H. MacRae, Matthew A. B. Baker, J Justin Gooding, Katharina Gaus
Quantitative, super-resolution localization of small RNAs with sRNA-PAINT
Kun Huang, Feray Demirci, Blake C. Meyers, Jeffrey L. Caplan
Spin∞ an improved miniaturized spinning bioreactor for the generation of human cerebral organoids from pluripotent stem cells
Alejandra I. Romero-Morales, Brian J. O'Grady, Kylie M. Balotin, Leon M. Bellan, Ethan S. Lippmann, Vivian Gama
EpiGraph: an open-source platform to quantify epithelial organization
Pablo Vicente-Munuera, Pedro Gómez-Gálvez, Robert J. Tetley, Cristina Forja, Antonio Tagua, Marta Letrán, Melda Tozluoglu, Yanlan Mao, Luis M. Escudero
Myo-REG: a portal for signaling interactions in muscle regeneration
Alessandro Palma, Alberto Calderone, Andrea Cerquone Perpetuini, Federica Ferrentino, Claudia Fuoco, Cesare Gargioli, Giulio Giuliani, Marta Iannuccelli, Luana Licata, Elisa Micarelli, Serena Paoluzi, Livia Perfetto, Lucia Lisa Petrilli, Alessio Reggio, Marco Rosina, Francesca Sacco, Simone Vumbaca, Alessandro Zuccotti, Luisa Castagnoli, Gianni Cesareni
Regeneration Rosetta: An interactive web application to explore regeneration-associated gene expression and chromatin accessibility
Andrea Rau, Sumona P. Dhara, Ava J. Udvadia, Paul L. Auer
The C. elegans 3'UTRome V2: an updated genomic resource to study 3'UTR biology
HS Steber, C Gallante, S O'Brien, P.-L Chiu, M Mangone
Citation.js: a format-independent, modular bibliography tool for the browser and command line
Lars G Willighagen
Research practice & education
Plan S in Latin America: A precautionary note
Humberto Debat​, Dominique Babini
Releasing a preprint is associated with more attention and citations
Darwin Y. Fu, Jacob J. Hughey
Why we publish where we do: Faculty publishing values and their relationship to review, promotion and tenure expectations
Meredith T. Niles, Lesley A. Schimanski, Erin C. McKiernan, Juan P. Alperin
The Increasing Importance of Fellowships and Career Development Awards in the Careers of Early-Stage Biomedical Academic Researchers
Christopher L. Pickett
Developing critical thinking in STEM education through inquiry-based writing in the laboratory classroom
Ah-Jung Jeon, David Kellogg, Mohammed Asif Khan, Greg Tucker-Kellogg
The post July in preprints appeared first on the Node.