The Young Tunisian Researchers in Biology Network:
Tunisia is suffering brain drain, especially post Tunisian-revolution (2011). Recent non-official reports say that over 90.000 senior quitted Tunisia since 2012, most of them are doctors, pharmacists and engineers. Aware of considerable role that may Tunisian scientist diaspora could play in the development of Tunisia in general and science and education in particular, the YTRB project was born (Young Tunisian Researchers in Biology). The project is all the more credible as all the founders were graduated from Tunisian universities and spent at least one post.doc outside Tunisia. The idea came out in early 2015 during a biology conference in Tunisia. Young Tunisians post.doc working in France, Tunisia, Sweden and Germany discussed the opportunity to organise a scientific event in Tunisia dedicated to young principal investigator (PI) as speakers essentially. The first YTRB committee was created with a fixed target: May 2016 will be the date of the 1st International Symposium of Young Researchers in Biology in Tunisia. We had an excellent speakers selection from Tunisia, Brazil, Europe and Asia. We had also a plenty of short oral talks and posters presented by local and international participants and definitely putting the event as the major scientific symposium in biology ever organised in Tunisia. Encouraged by this big success, we decided to continue building the Network. The major aim of YTRB is to create a new and young collaboration network and to help young Tunisian colleagues to connect to their peers all over the world, in order to provide knowledge, experience and technology exchange. The main activities of the YTRB Network are first conducting biannually an international biology symposium for young researchers. In collaboration with Tunisians universities and faculties, the organisation of several workshops in different thematic, Skype conferences and webinars, technology advances days wish are a mini symposium with focus on single thematic. Moreover, we created an annual science vulgarisation prize to help young Tunisian scientists to communicate their findings to a large public. In summary, we believe that YTRB is creating a new science climate in Tunisia marked by increasing the meetings, symposia, workshops and even chair in universities with the tag "young scientist" since the first symposium May 2016. This definitely encourages us to continue our work and investment to contribute modestly renewing the scientific research and build together the future science in Tunisia with the motto: Be Young, be Brilliant, Be YTRB!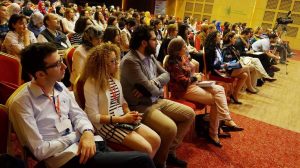 Audience during the first international symposium of the YTRB Network, Monastir, Tunisia, May 2016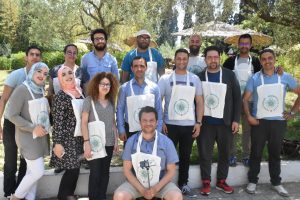 Organisers and volunteers during the second international symposium of the YTRB Network, Hammamet, Tunisia, May 2018
Our Thanks To
None of the work by the YTRB Network would be possible without the amazing devotion of Chamseddine Kifagi, Myriam Fezai, Fakher Frikha, Imen Chamkha, Walid Elfalleh, Radhouène Doggui, Ons Mamai, Chaker Slaymi, Radhouène Doggui, Nourhène Fendri, Abdelaziz Tlili, Alif Chebbi, Azza Sellami, Hana Trigui, Dhouha Daassi and many others. In addition, the YTRB activities could not be performed without the generous help from various organisations and scientists. I would like to thank the German, Italian, Spanish and French cultural institutes in Tunisia. Moreover, I'm grateful to the MNS" (Mediterranean Neuroscience Society, https://mnsociety.live/) and DrosAfrica (http://drosafrica.org/). We encourage every reader of this article to visit our website (https://ytrbiology.weebly.com/) and help the Network from their own work and time with any advertisement and financial support.
The post YTRB Network: Worldwide Bridges to Connect Young Tunisian Researchers in Biology appeared first on the Node.