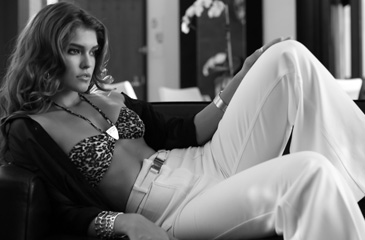 EmbraceRF is a new breakthrough facial contouring procedure that can address the lower third of the face, specifically the neck and jowls. It is a onetime procedure that combines two powerful technologies from industry leader InMode – FaceTite and FDA approved Morpheus8, a Subdermal Adipose Remodeling Device (SARD). This procedure is a great option for patients who have skin laxity in the lower face and neck with or without underlying fat concerns, and for those who may not opt for a facelift but want optimal outcomes.
FaceTite utilizes RFAL (Radiofrequency-assisted liposuction) to address excess fat deposits as well as skin laxity on the face and neck. In some cases, some of the fat in the face and neck area may need to be preserved to retain a youthful appearance. Depending on the quality of the skin, the aesthetic surgeon can combine EmbraceRF with Morpheus8 externally for remodeling the underlying fat tissues. With its depth of 4 mm and additional 1 mm heat signature, Morpheus8 allows the surgeon to remodel adipose (fat) tissue. Depending on the depth of the dermis in different parts of the face, the surgeon can preserve fat and tighten skin or remold the fat into the contours so as to improve definition of the jaw line, jowls and neck, while retaining the fullness necessary to maintain a youthful appearance. The procedure enables the surgeon to determine how much fat is removed, left behind or molded for precise sculpting of the face.
Here are some of the benefits of using EmbraceRF
Minimally-invasive treatment, no incisions or scars
Takes about 45 minutes to complete, with about a 48-hour downtime
Performed on an outpatient basis under local anesthesia
Treats both superficial and deep tissues
Tightens the skin in the neck and jowls
Improves the jaw line and rejuvenates the neck
Improves skin tone
Retains the youthful fullness of the face
Superior facial contouring with natural looking outcomes
Results are visible immediately and improve over time
Uniform treatment and permanent results
Built-in safeguards including real time measurements of skin temperature, impedance monitoring, power cut-off and audible feedback foster patient safety.
The categories of patients who can opt for this procedure include:
Treatment Gap Patients – Patients who do not have bad enough skin for a facelift and not good enough skin elasticity for liposuction.
Sideline Patients – All potential patients who are candidates for a facelift, but have not had surgery due to concerns about scarring and general anesthesia.
Facelift Maintenance Patients – Those who have had a previous facelift, but with early recurrence of jowls and neck laxity, and are too early to repeat another facelift.
Leading AAAASF-accredited practices in NYC offer EmbraceRF. A NYC plastic surgeon with expertise in performing radiofrequency-assisted aesthetic procedures can use this innovative InMode technology to mold the face and provide attractive results.
The post EmbraceRF for Superior Facial Contouring Outcomes without Surgery appeared first on bodySCULPT Blogs.