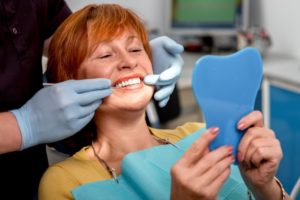 Today's the day you finally make a change for yourself and for your smile. That's because today you've decided to begin your search for the best option for replacing your teeth. You're tired of eating soft food all the time and closing your mouth for every picture people take of you. You want a smile you can show off to your friends, family, colleagues, and even your pet! Luckily, it's also the day your dentist in Naples is ready to explain the differences between two of the most popular tooth-replacement options out there: dentures and dental implants.
According to the American Association of Oral and Maxillofacial Surgeons, statistics show that 70 percent of adults aged 35 to 44 have at least one missing tooth. Dentures and dental implants both offer the same solution to missing teeth, but in terms of execution, they couldn't be more different. Keep reading to see how they compare.
Dentures vs. Dental Implants
Dentures are prosthetics that are usually used to replace many teeth or entire rows at once. They are held in place through several methods, such as denture adhesive, saliva, and even dental implants. They've been around for centuries due to their simplicity and accessibility and have only improved in quality over the years.
Dental implants in Naples are much different however. These titanium posts are surgically planted into the jawbone, acting as a prosthetic tooth root. The metal post integrates with the bone and after healing over several months, a porcelain crown is placed on top. They are designed to stay in place and serve as natural teeth.
The Benefits of Dentures
Dentures are often seen as the fastest method for replacing teeth. Because of the cheapness of the materials used to produce them, they are inexpensive when compared to dental implants. It's also possible to receive them much quicker after they've been fabricated.
If your gums or jaw are not particularly healthy or you don't have enough healthy bone to receive dental implants, dentures are the way to go. After receiving them, you'll need to reline them and eventually replace them, but thanks to their lower cost, this shouldn't be too big of a problem.
The Benefits of Dental Implants
Because dental implants replace your tooth's root, it promotes bone growth and allows blood to flow to your jaw again. This means the muscle in your jaw is remaining active and your face doesn't sag as much, allowing your face to retain its natural shape.
Furthermore, dental implants are extremely durable, long-lasting, and effective at looking like natural teeth. Since the crown is made of inorganic material, it won't be vulnerable to cavities. While this is true, you'll still need to brush them like the rest of your teeth to keep the gums healthy. When it comes to replacing teeth, nothing really compares to dental implants.
Still not sure which option is right for you? Schedule an appointment with your dentist in Naples today to learn more about regaining your smile!
About the Author
Dr. Gery P. Benza earned his undergraduate education from SUNY at Birmingham and his Doctor of Dental Surgery degree from Case Western Reserve University School of Dentistry. With over 30 years of experience, he is fully capable of providing the residents of Naples the best restorative options, including dentures and dental implants. To learn more about his practice, contact him at (239) 592-5112 or visit his website.
The post Your Dentist in Naples Compares Dentures and Dental Implants appeared first on Galleria Dentistry Blog.