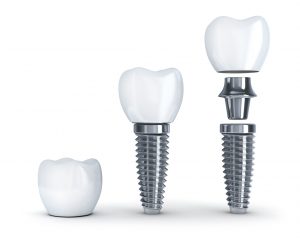 Are you suffering the aftereffects of an incomplete smile? Unable to enjoy the foods you've loved for years now? Or is your missing tooth making it difficult to communicate effectively? Very Loving Dental has a dentist in Richmond that can help you. Dr. Vongsengdeuane (our regular patients call him Dr. Vong for short) offers a popular and versatile dental implant restoration that offers our patients an amazing alternative for tooth replacement. Because dental implants have a structure that mimics your natural teeth, you can look forward to results that not only look—but feel—completely natural.
What's a dental implant exactly?
While there are different options for patients struggling because they have lost one or more teeth, dental implants have a unique benefit that sets them apart. More well-known restorations like traditional bridges and dentures just replace the crown (visible portion). These prosthetics totally ignore the other vital component of your tooth – the root. Your tooth root stimulates your jawbone, keeping it full and healthy. If you do not have a healthy tooth root, your jaw will start deteriorating over time starting in that area and spreading throughout your mouth. Collapsing jawbones can lead to more tooth loss and a sunken, aged facial appearance. Thankfully, dental implants replicate the entire structure of a tooth. Dental implants in Richmond preserve and encourage the growth of new bone tissue. This procedure can truly help rejuvenate your entire smile.
How can I benefit from dental implants?
The versatility that dental implants offer is one of the greatest benefits, let alone re-stabilizing your smile. Parallelly, you will begin to feel confident in your smile once again. Implant-retained prosthetics, such as bridges or dentures, can be attached securely to a patient's smile with the help of only a few implants. That's right! Your dentist can significantly reduce dental care costs for multiple implants, prosthetics, and other restorations while still providing the same awesome benefits. Some other positive things about dental implants include:
Ability to blend well with the rest of your smile with tooth-colored restorations.
Durable restorations built to last the rest of our patient's lives with the proper care and regular checkups.
No abrupt changes in your dental hygiene routine, your restorations can be cared for just as regular teeth.
How many teeth can I replace?
Dental implants can be used to replace anywhere from a single tooth to an entire set of teeth. Sometimes, it's not in the best interest of the patient to preform extensive treatments to save a tooth if, for instance, tooth decay is too far gone. It is much more sensible to replace it with an implant—this is actually great for patients who are cavity prone because they will never get a cavity again!
There is no limit to how many teeth can be replaced in a healthy mouth. You can replace a few teeth or bridge them together with dental implants. Crowns and bridges can be attached to implant posts. They replace single or several teeth in a row with high-quality, natural materials that blend seamlessly with surrounding teeth.  A single crown or two attached crowns can typically be supported by a single dental implant.
Partial or full dentures can be used if you have more advanced tooth loss. Dr. Vong may recommend attaching dentures to a few strategically placed implant posts. Regular dentures can slip or cause further jaw bone deterioration from being held by suction or adhesives. Fortunately, with implants, they will stay in place.
Are dental implants right for you?
If you're considering getting dental implants, let your Richmond dentist meet with you. Dental implants aren't right for every patient, so it's important to schedule a consultation. If we need to, we can recommend a better-fitting alternative solution for you. Call us today!
The post Your Dentist in Richmond Can Complete Your Smile appeared first on VL Dental Blog.